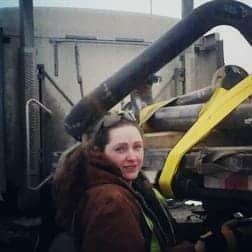 I'm a lady trucker who loves trucking.
I've been trucking for 36 years. I had always loved shiny big rigs.
How I Got Into Trucking
I got my Class 1 license with air endorsement, on my 18th birthday. At the time, I had been running Toronto to Vancouver for 3 years already. My friend made me a proposition. If I could run through the mountains through all types of weather, he'd take me to get my Class 1 license.
I went for the test and passed. I started off driving a Mack, running lumber out of Northern Quebec. I then drove for Laidlaw Transport, hauling plate steel, coil steel and yellow jacket pipe.
My Career as a Truck Driver
I then changed it up a bit and got into pulling bucket to Nova Scotia. Then I went to LTL van work hauling every kind of dry freight there was.
Then one day I met the man I would be with for 12 years. We really trucked up a storm. We owned a Kenworth and ran all over the U.S. and Canada for 10 years.
Life was great. I had a son and he was very precious cargo! We took him with us until he was 2 years old. At the time, we owned 2 Kenworths with reefer trailers.
When my son got into pre-school, I gave my Kenworth to my stepson and dad and mom shared the other truck. I would run a 9 day rounder, then go home and we'd switch. It was great!
Things declined in the trucking industry in 1995. We sold the one set. I got into hauling crude oil, super B tankers. It was awesome and the job paid well.  I worked 16 days a month. Work was plentiful.
I hauled oil until 2005 and then hauled cattle for a friend. I hauled freight west from Ontario to Alberta with a converted trailer, loaded straw and cattle and headed east to Quebec.
I helped out a friend for a year with that work, then came back to Alberta and got right back into hauling crude oil from Alberta to Saskatchewan. I was home every day.
My Trucking Career Takes a Turn
In 1996, I was separated and on my own with my son. I worked hauling oil until 2009. I was laid off due to the owner not complying to Plains Marketing Rules out of Kansas.
I got into running a Kenworth in construction. My son was older, then. He was 20 and doing well. I was on the road for 3 weeks at a time, camping and hauling asphalt, sand, and gravel, and milling roads near Calgary and Edmonton.
I hauled oil until 2009, when myself and one other driver were laid off. The owner of the company Did not comply to the Plains Marketing Rules out of Kansas.
Now I work 7 months a year. I'm off in the winters.
There is a moral to this story. I am a mother AND a father. I do not regret one day of my trucking career.
My son has lost his father now after 45 years of trucking. Even though we were not together, we remained very good friends.
I just want to say, if you enjoy driving for a living, stick with it.
Give it the best effort you can. You will be happy.
by Cindy
(Alberta, Canada)
Home > More Trucker Career Stories